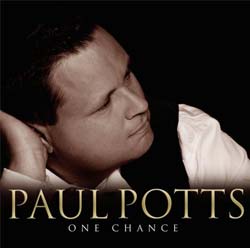 One Chance by Paul Potts (2007)
Get ready for the finale of American Idol with this CD from Paul Potts — the winner of Britain's Got Talent (the British version of American Idol). Potts has always loved to sing and performed with local opera companies near his home in Wales. His singing range includes the very lower register that add depth to a piece as well as the higher register that enable him to leave the listener astounded. He performs operatic numbers such as "Nessun Dorma" by Puccini, "Music of the Night" by Andrew Lloyd Webber, "Everybody Hurts" (Ognuno Soffre) by R.E.M., plus "O Holy Night" and "Silent Night."
Visit his website to track his blog, get biographical info, follow his world tour, and more. Preview the album at Amazon.com.